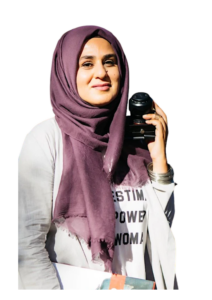 View.
In Residence: October 2022 –
Exhibiting:
iCOVER: A Day in the life of a Muslim-American COVERed Girl
Syed captures moments in the day-to-day lives of these Muslim women that the average American can relate to once they "embrace" the fact that she covers her hair. The accompanying photo captions and personal quotes flesh out the dimensions of these women's lives. In the faces of a dancer, a surfer-girl, a biker, a triathlete, and even a boxer you hear their voices, and touch their thoughts, dreams, struggles, and fears. With each page, a stereotype is shattered and the misunderstandings that surround the female followers of a faith of 1.8 billion diminish. iCOVER has garnered significant publicity both domestically and internationally.
Recognized as a leading artist by the White House, photojournalist, Sadaf Syed is an award-winning photographer and author. Syed is best known for breaking down stereotypes as she educates and inspires her audience through the eyes of photography and the perspectives of her subjects. She was a digital news Photo Editor and Staff Photographer for Al Jazeera America. Syed authored an award-winning coffee table book, iCOVER: A Day in the Life of a Muslim-American COVERed Girl. iCOVER debut its photography exhibition in the United Arab Emirates hosted by the royal family of Sharjah in the famous Sharjah Museum of Islamic Civilization.
Syed was recruited by the Chicago History Museum and hired as a photographer in March 2019 to photograph Muslim Chicagoans sharing their stories of faith, identity, and personal journeys for the new exhibition, American Medina which made its debut on October 21, 2019, at the Chicago History Museum.